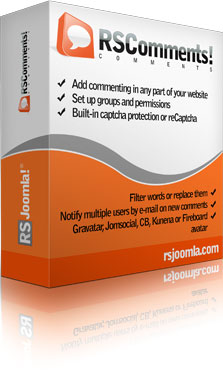 RSComments! completes your Joomla! based site. Unlike other Content Management Systems, Joomla! does not have an integrated commenting component. This is where RSComments!! comes into place. Easy to configure, flexible and versatile, this will allow you to enable comments on your site within minutes after installation.
So why should you have a comment component installed on your site ? RSComments!! will basically allow you to get in touch with your website community, exchange opinions and receive feedback on various articles, products or various content items published on your site, thus, making your visitors more involved and improve your visit return rate.
You can read more about RSComments! in our documentation.
---
Features:
Back-end editor button for enabling comments
Import comments from other Joomla! commenting systems
Spam and flood protection tools
Group-based restrictions
Censor words