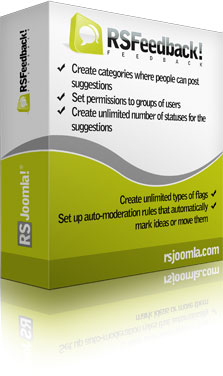 With RSFeedback! you can turn your visitors into active contributors to your project. Get them to vote and express their ideas on the project.
RSFeedback! will give you a realistic picture of your project by involving your customers into it. Get them to vote the next features you want to implement or simply let them comment on your company.
You can read more about RSFeedback! in our documentation.
---
Features:
Configurable feeback status list
Save time using the auto-moderation
Built-in commenting system
Group based restrictions
Social media sharing options
Display feedback items in a testimonial module