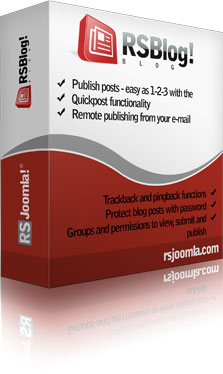 RSBlog! makes Joomla! blogging easy with a set of tools that will enhance your blog experience in Joomla!. Wordpress blogs can also be easily converted to Joomla! using the RSBlog! Wordpress importer - a built-in tool that will convert your Wordpress blog posts into RSBlog! Joomla! posts.
With tools like remote publishing and Twitter and Facebook integration, RSBlog! will help establish and maintain your site's community, resulting in higher traffic rates.
Features that you love in Wordpress and ease of use are now integrated in our Joomla! blogging extension and will make a it an easy and fun experience for beginners and pros alike.
You can read more about RSBlog! in our documentation.
---
Features:
Import WordPress blogs and Joomla! Content
Remote publishing via e-mail
Twitter and Facebook integrations
Automatic cleanup and archiving
Allow your users to submit articles
Stay connected with other blogs