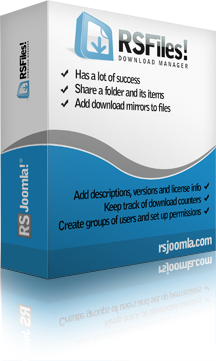 The RSFiles! is the best solution if your company or organization needs to serve and share files over the internet or just over an internal network. It can be installed and used on your Joomla! installation in few minutes so your web based file server will be ready for file sharing instantly.
RSFiles! provides a robust, secure and easy online file management for users who need to access files remotely from anywhere, anytime.
You can read more about RSFiles! in our documentation.
---
Features:
Share files and folders in a professional manner
Group based restrictions
Allow users to have their private file area
Flexible layouts
Front-end maintenance
Track downloads and impose license agreement